by Jim Thomas
Defensive tackle Michael Brockers has a high-ankle sprain, which means he could be sidelined for the first month of his rookie season.
Brockers was the No. 14 overall pick in last April's draft out of Louisiana State, and the Rams were pleased with what they had seen from him in training camp and the preseason.
Brockers had his right ankle encased in a cast almost up to the knee on Friday.
He suffered the injury in the first quarter of Thursday night's 31-17 victory over Baltimore. Brockers was cut block below the knees by a Raven while in pursuit of Baltimore running back Bernard Pierce down the line of scrimmage. Brockers did not return.
With Trevor Laws already on injured reserve because of knee problems, and Darnell Scott on the mend from knee surgery, the Rams are on the thin side at the position. The top backups are Jermelle Cudjo and Matt Conrath, and Conrath left Thursday's game with an injury that Fisher declined to disclose.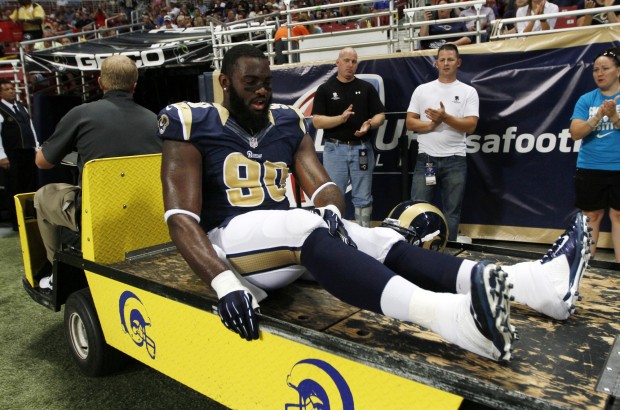 Rams reach 53-man limit; Clemens, Mughelli gone
The Rams reached the 53-man roster limit Friday evening, trimming their roster by 22 players. The biggest surprise saw the team release veteran quarterback Kellen Clemens and keep rookie Austin Davis as the only backup behind Sam Bradford. But the roster churning is expected to continue as the front office works the phones and checks the waiver wires in the coming days.
Besides the cuts, wide receiver Austin Pettis won't count on the roster for the first two weeks of the regular season as he serves out the final two weeks of a four-game suspension for violating league policy on performance-enhancing substances.
Here are Friday's cuts, by position:
Quarterback: Tom Brandstater, Kellen Clemens
Running back/fullback: Ben Guidugli, Ovie Mughelli, Chase Reynolds
Wide receiver: Nick Johnson
Tight end: Corey Harkey, Deangelo Peterson
Offensive line: Tim Barnes, T-Bob Hebert, Joe Long, Bryan Mattison, Jose Valdez
Defensive line: Cornell Banks, Mason Brodine, Vernon Gholston, Jamaar Jarrett, Scott Smith
Linebacker: Aaron Brown, Sammy Brown
Secondary: Kendric Burney
Right now the Rams have 11 defensive backs on the team, 5 safeties and 6 corners. That number includes both Matthew Daniels and Rodney McLeod at safety, as well as cornerback Quinton Pointer, who has come on late in the preseason.
There have been indications also that the team could be shopping cornerback Bradley Fletcher in a trade. It looks like rookie Trumaine Johnson has earned the nickel back _ or third cornerback _ job. And if Fletcher is at best the fourth corner on the roster, they may not be willing to pay his $1.2 million base salary in what is the final year of his contract.