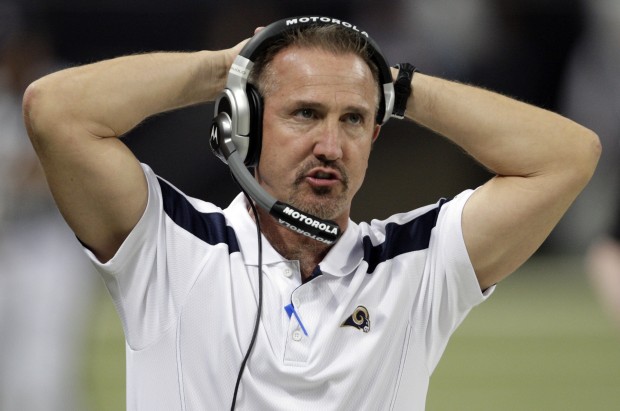 by Bryan Burwell
There have been plenty of times during the course of his struggling run as the Rams' coach that when the smoke cleared on another Sunday afternoon debacle you could always find some thin wisp of promise in Steve Spagnuolo's reclamation project. Sometimes — heck, most of the time — it took a lot of squinting to see the good amidst the disaster of a 10-33 record.
But there always has been something this man's focused, relentlessly optimistic, tunnel-vision public approach and his unwavering "My way or the highway" control-freak personality behind the scenes that convinced me Spagnuolo eventually would find a way to fix this mess of a franchise and turn the Rams into championship contenders.
That faith was shaken hard Sunday. The results we've been waiting to see — the big turnaround after last year's surprising leap from a 1-15 disaster in 2009 to a 7-9 season that had everyone believing the Rams were on the verge of winning the NFC West title — just have not happened. The Rams are getting worse, not better. With a 23-20 loss to Arizona on Sunday, the Rams are now 2-9 and guaranteed of an eighth consecutive non-winning season.
In the midst of all this losing, here's what continues to be so fascinating about Spagnuolo. He does not show any of the normal signs of an embattled head coach. Watch him during and after games. He does not show any of the disturbing body language of a coach on the hot seat. There are no slumped shoulders, no hang-dog expressions, no back-against-the-wall emotional flailing. Spagnuolo did not sound like a coach on the endangered list full of regret and half-baked alibis.
Even while the rest of us are screaming at the results of some of his coaching decisions, Spagnuolo conducts himself with the confident air of a man who firmly believes he still is in complete control of his environment.
"I think our team is passionate," he said. "I mean the work I see when they go out, I don't think there's a lack of effort. We know we're a little short-handed in some spots. ... But my pride and competitiveness says that no matter what, we've got to find a way to win."
But the cold-blooded business of coaching does not reward coaches for their outstanding personality traits or hand out A's for effort. The halls of Canton are full of jerks, reprobates and brow-beating maniacs who have stalked NFL sidelines. This is a bottom-line business and winning is all that matters. What does it mean that his players don't quit? What does it mean that they fight to the bitter end every Sunday? What does it mean that his team is full of real professionals who refuse to use injuries as excuses?
It doesn't buy him much more than the opportunity to let the season play out, giving him the full 16 games to determine his fate.
But on Sunday, Spagnuolo committed the sort of glaring coaching errors that under the best of circumstances get owners looking at you sideways, and in the worst of circumstances — such as a loss that sends your team falling deeper into the abyss of another lost season — gets a giant target plastered on your chest.
Add this to the growing list of games we've seen far too many times this season. This was a game against a bad foe that didn't deserve to win. But it was yet another game the Rams gave away, and they gave it away because of failed decisions by the coach.
In the third quarter, trailing 13-10, they had a fourth-and-1 play on their own 30-yard line and the entire crowd rumbling in anticipation that Spagnuolo would go for the first down. It was one of those moments in which a struggling team already eliminated from playoff contention — with six games left — had nothing to lose. When Spagnuolo asked for a measurement, it showed the Rams were only half the length of a football away from a first down.
But Spagnuolo ordered a punt.
"It was just way too early in the third quarter," Spagnuolo said. "We're on our own 30. I just felt it was too risky in my opinion."
What exactly would 'Spags' have risked by going for it? The expiration date on the season already is long gone. The only thing the Rams are jockeying for is favorable position in the first round of next spring's NFL draft. So where was the risk? Even if they failed to get the first down, you don't second guess the decision to go for it because it was the bold thing to do and the right thing to do.
What happened next was an "out of the frying pan and into the fire" moment for Spagnuolo. He ordered the punt, but instead of Donnie Jones using the directional punt to the sidelines, he hit one right down the middle of the field to Cardinals return man Patrick Peterson, the rookie from LSU who already had three touchdowns of 80 yards or more on punt returns (including the game-winning 99-yarder the last time these teams met).
"The intent was not to go down the middle," said Spagnuolo.
The intent did not match the result. All together now: Arrrrrrrrrrgggggggh! One juke here, one wiggle there and whooooosh. .... Peterson hit top speed and dashed 80 yards untouched for a touchdown that gave the Cards a 20-10 lead.
This might have been the most disastrous sequence of coaching decisions I've seen Spagnuolo make in his three seasons as the Rams' coach. But we only had to wait about 20 more minutes before he made another decision that would produce another agonizing collective groan.
With 3 minutes, 22 seconds left in the fourth quarter and the Rams now trailing by three points, Spagnuolo was faced with another fourth-and-1 situation. The ball was on the St. Louis 36 and this time he didn't hesitate. He called for another punt, and that was the ballgame.
"I thought it was (fourth and 2)," Spagnuolo said. "I thought it was 2 yards (not 1). We had three timeouts (and) I thought if we could hold them, didn't let them get the first down, we're going to get the ball right back."
He must have been the only one who thought that because his defense had been shredded by the Cardinals on the ground all game long, giving up a staggering 268 yards rushing, including 228 by Beanie Wells. The Cardinals were averaging more than 7 yards a carry, and there was absolutely a zero shot that the Rams would get the ball back again.
And the Rams never got the ball back. They used all three timeouts and the Cardinals ran out the clock.
There's another clock that is still ticking, and it's the one that measures the time remaining on Spagnuolo's head-coaching life. I still think there's a chance to keep it running, but it's dwindling. Can he control that clock and make this thing work?
We have five weeks to see if he can.