The St. Louis
Rams
possess the No. 6 overall pick in the
2012 NFL Draft
after trading the No. 2 selection and the eventual rights to Heisman winning quarterback Robert Griffin III to the
Washington Redskins
in an
historic deal
that saw St. Louis land a total of three first rounders and a second round selection.
Of course, many of you have read Matt Miller's
"
Peyton Manning
to
Denver Broncos
" mock draft here on Bleacher Report. Miller has the Rams taking wide receiver Justin
Blackmon
of Oklahoma State at No. 6.
CBSsports
.com has
a collection
of mock drafts from their team of draft evaluators. One of those, Rob Rang, has the Rams going with former LSU cornerback Morris Claiborne at the aforementioned spot.
Walter Football
has a
brand new mock
up today, and it too has the Rams grabbing
Blackmon
at No. 6.
Other consensus options at No. 6 include left tackle Matt Kalil of USC and former Alabama running back
Trent Richardson
.
Many of you have already read
my breakdown
of the Rams' options at No. 6, including the ranking of the four above-mentioned players, the biggest need in St. Louis, safest pro future and the highest-valued position.
As for the fantastic four, each could offer some potentially great things for St. Louis if they are indeed available when the Rams are on the clock.
Blackmon
could potentially become a No. 1 receiver for St. Louis, and a go-to target that
Sam Bradford
could build and grow with for the next decade.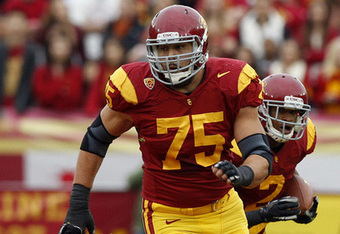 Matt Kalil
After averaging 12 points per game in 2011, the annually sub-par wide receiving corps of the Rams could benefit from pairing the former Oklahoma State Cowboy with the Sooners' product, Bradford.
A second option would be Kalil.
The impressive left tackle could lock down the left side of the offensive line for a decade-plus like former Rams great Orlando Pace did for
Kurt Warner
and other Rams QBs.
Adding Kalil would allow Rodger
Saffold
to slide to right tackle and give St. Louis the nucleus of a stellar offensive line (Kalil,
Saffold
, Scott Wells and Harvey
Dahl
) going forward. Bradford would likely have great blindside protection for the foreseeable future with Kalil in the fold.
Choosing Claiborne is another alternative.
In today's pass-happy NFL it is almost impossible to have too many strong defensive backs. As the Rams found out last year, having depth at DB is essential after losing 10 corners to the injured reserve.
Claiborne would likely pair with new addition Cortland Finnegan as a starter at cornerback.
At 6'0, he has the size to go with his impressive tool chest to develop into one of the league's better corners.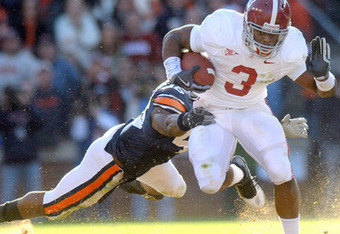 Trent Richardson
Finally, the Rams could grab Richardson at No. 6 and set St. Louis up to unleash an extremely powerful running game and one-two punch with incumbent Steven Jackson sharing the load.
Richardson would become the heir-apparent to Jackson who will turn 29 later this year. He would also provide exemplary injury insurance in the case that Jackson go down with a long-term injury (as he did last season when missing four games.)
So, Rams Nation, who do you like at No. 6?
Here is the criteria to keep in mind when voting in the poll on the right:
-All four players are available at No. 6 in this theoretical case
-This assumes the Rams are not trading down
-This is strictly who
you
would pick,
not
who you think the Rams will select
That established, please make you vote in the poll to the right and ask every one of your friends in Rams Nation to do the same.
Who Would You Pick at No. 6?
A: Justin Blackmon
B: Morris Claiborne
C: Matt Kalil
D: Trent Richardson
It will be very interesting to see the results, particularly if the voting pool ends up totaling 5,000 or more.
I will be revealing the Rams Nation results in an upcoming article. Please justify your vote by sharing your reasoning for it in the comments section below.
The best comments (one for each player) will be chosen and quoted in the previously mentioned, future column.
I am very anxious to see who Rams Nation wants with the No. 6 pick.